The (R)evolution of Steve Jobs by Mason Bates, with libretto by Mark Campbell, starts with Jobs's frenzied 2007 launch of "the device" that has altered world culture and the habits of hundreds of millions of people–the actual name never proclaimed. It fits the hand, goes in the pocket, and will do everything: it is life changing.
The syncopated, churning rhythm associated throughout with Jobs dominates the opera and sets a frenetic pace, sometimes interrupted by calmer lyric episodes. A wall of sound confronts the audience: all principal singers are amplified, along with an electric guitar and Mason Bates himself running two laptops to produce "electronica." They sit in the pit with a conventional orchestra of sixty-three players heavily weighted to brass and percussion, including mallets, xylophone, piano, and seven timpani. This is a noisy score. Even the several quiet episodes seemed loud in the theater. It all was rapturously received by the audience in San Francisco, a little south of which most every scene is set.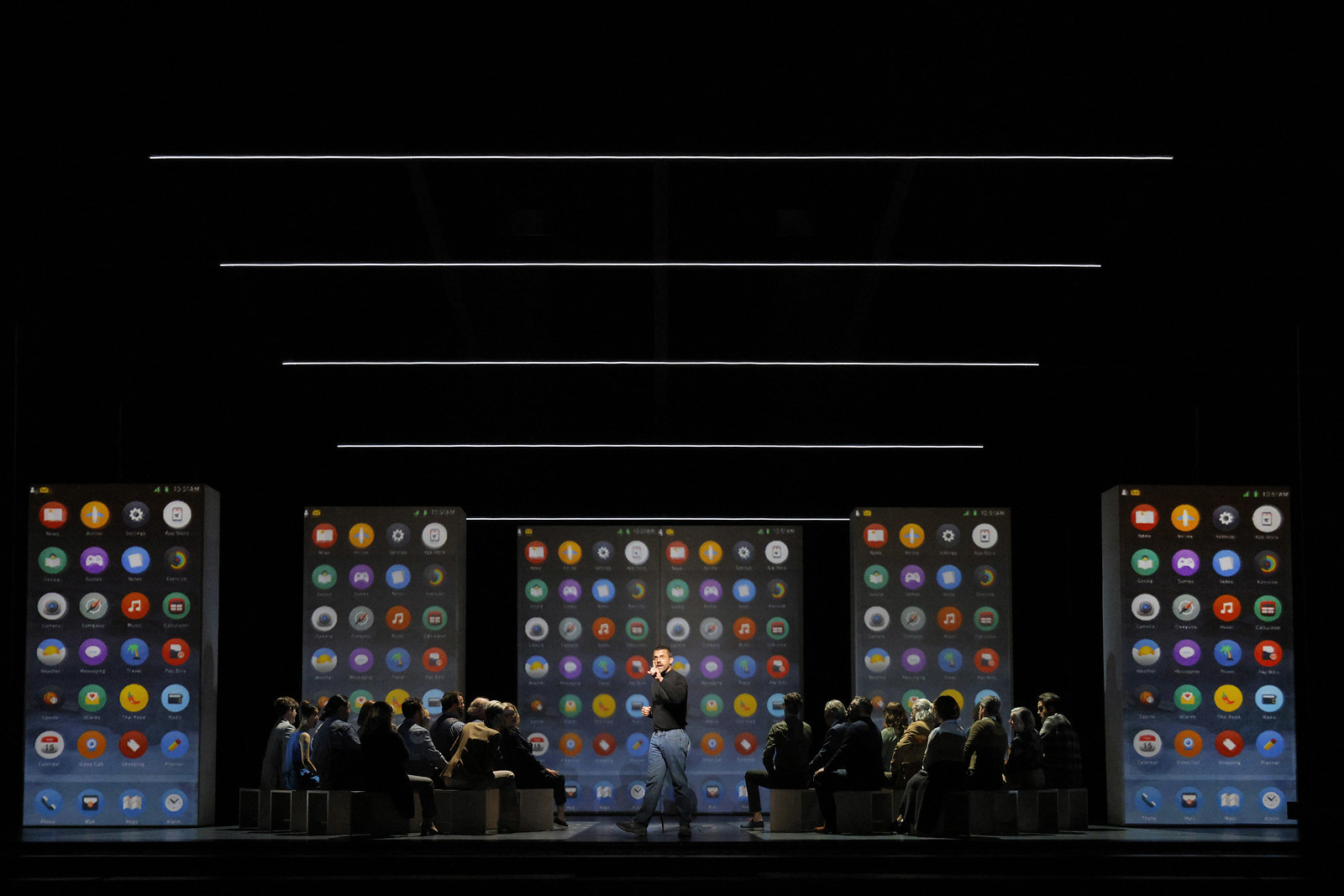 John Moore in the title role of San Francisco Opera's production of Mason Bates and Mark Campbell's The (R)evolution of Steve Jobs @ Corey Weaver
Campbell, a highly experienced librettist, gets much credit for this success. His text resembles a cross-cut film scenario, with prologue, epilogue, and eighteen very short scenes presented largely out of chronological order in just over 90 minutes.  They reflect dates between 1965 and 2011. Line by clear line, the cogent words are meant to be sung by a cast with the excellent diction everywhere present here. Does it all have a shape?
Yes, for the underlying story is of redemption, firmly stressed in a program essay by Bates. The opera ought to be called "the myth of Steve Jobs." For while the hero, who in real life often behaved monstrously, and in the opera is highly aggressive and obnoxious in one corporate scene–with strands of this personality sometimes punctuating the drama—mainly is shown just a hyper-charged guy who knew already by 2007 that he was dying of pancreatic cancer. But Jobs's actual, at the edge, out of control nuttiness during his young years comes down here to a couple of joints and a little LSD. His wildness largely drops out, and his creativity is enshrined. Surely, the one was devil twin of the other.
At its heart, then, The (R)evolution of Steve Jobs is a sentimental melodrama. A brilliant hero, lost in the world and wreaking havoc on others, finds salvation through the devotion of the genius co-founder of Apple Computer, Steve Wozniak; the love of his long-suffering wife Laurene Powell Jobs; and, above all, the ghostly pronouncements of his deceased Zen Buddhist mentor Kõbun Chino Otogawa.  Neither this clichéd plot, nor Bates's climatic music, which might accompany a Hollywood walk into the light (stars newly added in this production), honors the true Steve Jobs – or our intelligence.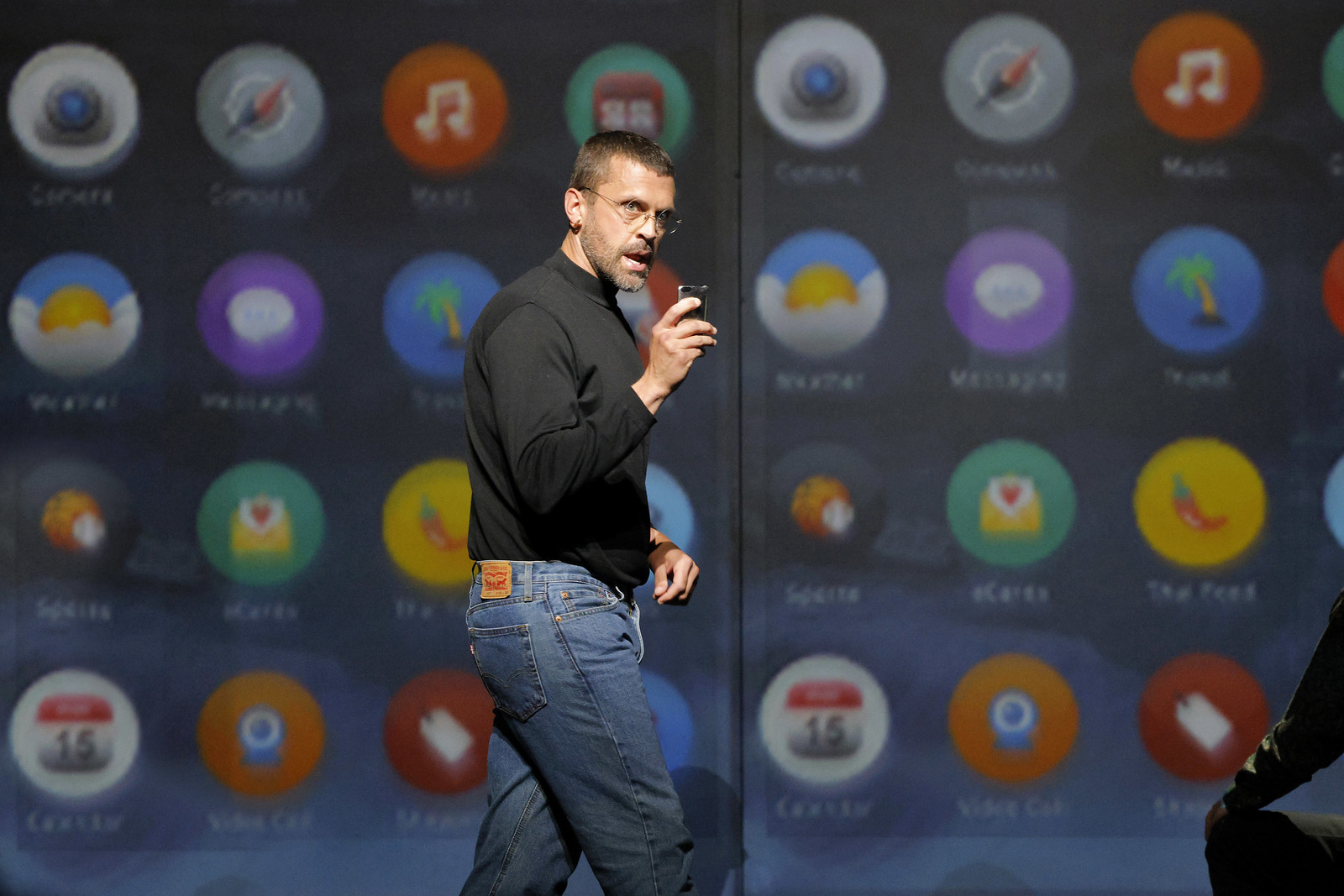 John Moore in the title role of San Francisco Opera's production of Mason Bates and Mark Campbell's The (R)evolution of Steve Jobs @ Corey Weaver
Bates built his eclectic score around instrumental and rhythmic "soundworlds" for each character: guitar and cyclying electronica for Jobs, slow surging impulses for Laurene, saxophones for Wozniak, throbbing prayer bowls and processed gongs for Kõbun, and fluttering flutes for Chrisann Brennan, Jobs's youthful lover and the scorned mother of his daughter Lisa.  Some jump out more obviously than others.  The Asian sounds, in particular, although distinctive, also live in a realm of Hollywood film scores.  The obsessive impulse of Jobs's motifs overtly and covertly binds this diversity together into a hectic whole.
For years now, scarcely varied recitative has dominated the vocal lines of new operas. Arias have been rare. On Broadway, characters happily break into song on the moment. Do recent opera composers find this indecorous? Often they avoid even exploiting the potential of the half-song called arioso, so dazzlingly illustrated by such great composers as Monteverdi and Wagner. Happily, Bates does set flexible recitative, offers some passages in the manner of arioso, and assigns aria-like sequences to major characters.  We even hear some concerted passages, including a wedding trio.
In that stressful corporate scene of tyranny from Jobs, Wozniak quits Apple with a melodic recollection of early times and objection to Jobs's change into "one of the people we hated." Laurene's long demand that Jobs confront his dying illness brings her into aria-like measures, as the line resolves into a duet with Wagnerian texture. And when Jobs and Chrisann soar into love on LSD in a surreally romantic apple orchard, her song catches a rare happy moment for her.
Canadian Olivia Smith made a big impression in the role of Chrisann. Jobs treats her with threatening contempt in the opera, refusing to acknowledge his child and repeatedly pushing her mother aside. This is as nothing compared with Jobs's sustained brutality in real life. The role could hardly be more difficult. Smith's rich, humane soprano soared through the vocal line and projected an entirely sympathetic and touching woman struggling to confront raw power. She was outstanding.
John Moore fits the part of Steve Jobs like the Levi 501 jeans he wears throughout (a uniform Jobs actually adopted relatively late). He is on stage virtually full time. His smooth, classic baritone, mobile presence and immaculate diction project a man of driven purpose. At times rough and tough, he can seem sympathetic despite Jobs's behavior.
Sasha Cooke's Laurene is a wonder of empathetic presence. She carries much of the opera's emotional burden. Her rich mezzo unfailingly embodies the required authority of a strong, independent woman. She somehow transcends the dimension of female cheerleader to Jobs that is built into her part. Equally engaging is tenor Bille Bruley as "Woz," the brains behind the Jobs revolution.  And Wei Wu deployed his rich bass to shine as the predictably wise Kõbun.  
Sixteen fluorescent blocks floated magically around the stage to form varied locales and screens for beautifully striking projections — all framed by thin, brightly colored LED threads. Only that lush apple orchard and a panorama of Yosemite National Park, where Steve and Laurene were married, disrupt a glowing minimalist aesthetic clearly meant to honor Jobs's austerely elegant vision for Apple products and stores. Kevin Newbury directed the rush of action with cyber efficiency, in settings by Victoria (Vita) Tzykun, costumes by Paul Carey, lighting by Japhy Weideman, and projections from 59 Productions. The perfectly integrated sound by Rick Jacobsohn escaped most failings of amplification, though a certain monolithic, glassy impact seems baked in.
Michael Christie led his varied forces with a crisp, dynamic precision that kept  the horses galloping, yet under firm control. He let us access the attractive energy of Mason Bates's persuasive story telling in music.
---
Opera Canada depends on the generous contributions of its supporters to bring readers outstanding, in-depth coverage of opera in Canada and beyond. Please consider subscribing or donating today.